Post by pantherlee on Jun 12, 2019 7:45:25 GMT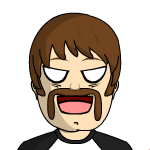 Do you really want answers to all of those questions/points?
Probably not...
What exactly has changed apart from adding another layer of management?
Fact:-
As others have pointed out - a new coach. And one who was praised last season for engaging very professionally with his players and motivating a poor team to perform well above expectations.
Speculation:-
Seeing as Corey Neilson (unfairly?), Rich Chernomaz and Rick Strachan were all heavily criticised on the player interaction and team motivation fronts... this
appears
to have the possibility of being a fundamental upgrade.
Fact:-
'Director of Hockey' - responsible for player recruitment.
Speculation:-
It has been widely touted - by those who appear to do little other than criticise - that their Most Unwanted person in the Panthers organisation, Gary Moran, has had control of this area for many years.
With Calum having already taken over most/all of the media side of things, and with GM's recent medical issues having largely sidelined him for a while... maybe this is another step in reducing the amount of control he allegedly has?
One would have thought there would be cheers and tears of joy in certain circles at even the remotest possibility of that happening...
Which from past experience means
Ah, yes... the 'nothing ever changes' line. Which is little more than assumption based more on prejudice than actual logic and facts.
more leeway to do sod all until its too late
And yes... the 'the Panthers don't give a damn as long as the money comes in' line. Because <sarcasm alert!> everyone within the Panthers organisation only ever does anything for money and is only out for themselves, as opposed to the dedicated and passionate fans who <bovine excrement alert!> only criticise out of the goodness of their hearts, providing 'tough love' and a 'realistic attitude'...

As for what this
will
do for British players with the Panthers (including links with the juniors & Lions)... who knows? We can only guess.
What
could
this do? - potentially one hell of a lot, although more in the medium to long term than anything else.
Best post ever