Post by 5+game on Apr 29, 2015 9:36:14 GMT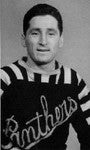 Berube isn't as bad as people are making out (you don't become captain of your team at 25 by not being very good), did he make mistakes? Sure he did. But he didn't make anymore than Landry did, the problem is you only notice the mistake when it gets punished.
There was one game (can't for the life of me remember who it was against) were Cohen turned the puck over 4 or 5 times and K-wall bailed him out each time then Berube made 1 mistake in the entire game and it goes in, which one do you remember?
If paired with someone who can move the puck (Steve Lee, Chris Murray, Eric Werner, Jordan Fox etc) there wouldn't be the turnover issues because he wouldn't have to be the one trying to move the puck (something which Landry was not exactly adept at) which is the main area he struggled in but positionally he was excellent, very rarely got beaten for speed and deflected numerous pucks up and out of play. You can never rule out the effect moving to the bigger ice has as well as some players never experience this before they get here, players like Wild flourish with it because his game is well suited to it whereas others like Berube struggle (although he should have adapted better over the course of the season).
There's also this issue of him not being the 'tough guy' he was billed as, but is that his fault? No. That lies squarley at the feet of Bruce for recommending him that way, Corey/Strachs for not researching thoroughly (1 look at Elite Prospects and you can see how low his PIM's are) and GM for typing it onto the website.
There's always more to it that 'oh this guy is rubbish' you just have to look a little further.
Berube is not cut out for this league. He was a weak dman in a lot of areas.
He does not deserve to be on this team and I bet you there isn't one other top 4 team in this league that are looking to sign him.
You can make all the excuses you want but he was crap for the majority of the season and cost us numerous times, yes he may have done a few decent things but even the sun shines on a dogs arse once in a while